Anish Kapoor Has Exclusive Rights to the Darkest Color in the World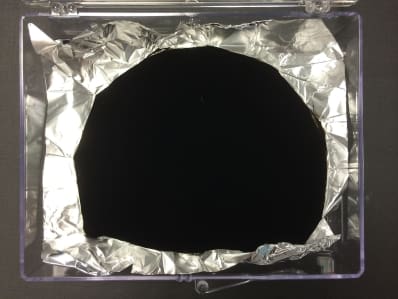 (Image credit: Surrey NanoSystems via Wikimedia Commons)
What's blacker than black? Vantablack. Artist Anish Kapoor has acquired the exclusive rights to the pigment, which absorbs 99.96% of light.
Vantablack was originally developed by UK company Surrey NanoSystems to paint stealth jets, yet Kapoor has been experimenting with the hue since 2014. The artist told BBC radio 4 in September 2014: "It's so black you almost can't see it. It has a kind of unreal quality." Like in the above photo, crinkled aluminum foil looks smooth when painted Vantablack.
Kapoor isn't the first artist to own a color; Yves Klein trademarked International Klein Blue in 1960.