A Simple & Stylish DIY IKEA Coffee Table Upgrade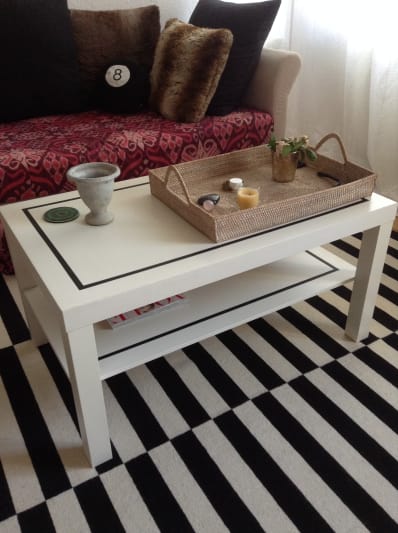 (Image credit: Submitted by Elinor)
If you're looking to spice up your Lack coffee table, but not quite at I-Can't-Believe-It's-Not-IKEA hack level, Elinor's simple and stylish upgrade might be for you!
Skill Level: Easy
Time Required: 1 -2 hours
Project Cost: $13-16/ € 12-15
(Image credit: Submitted by Elinor)
What You Need
Masking tape
A pencil and a ruler
Sandpaper 120 grit
Small paintbrush, about 3 cm wide
Small tin of black fast drying lack
From Elinor: While looking for the coffee table of my dreams, I'm using a white Lack IKEA coffee table. Although it does the job, I found it plain and wanted a more sophisticated look. Adding borders was easy and fun, and the result was worth the time.

Instructions
Wipe the table clean
Measure and make pencil marks where you want the borders. I marked at 5 cm from the edges and 6.2 (the borders are 1.2 cm wide on my table).
Place the masking tape on the horizontal lines first and sandpaper slightly.
Make sure the tape adheres well to the surface for sharp straight lines.
Put a little paint on the brush and dab, no dragging so that the lines are sharp. Repeat until the horizontal lines are done.
Remove the tape while the paint is still wet and let it dry.
Repeat the same process with the vertical lines.
If there is a little stain or irregularity here or there, carefully remove with a q-tip and solvent.
Thanks, Elinor!
Have a really great DIY project or tutorial that you want to share with others? Let us know! We love checking out what you're making these days, and learning from our readers. When you're ready, click here to submit your project and photos.