A "Private Green Oasis" in Philadelphia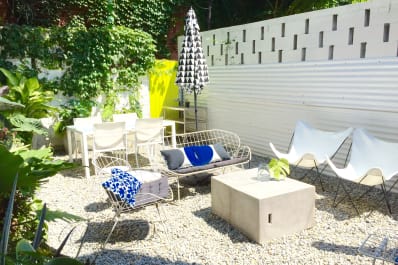 (Image credit: Submitted by Rhea)
Name: Rhea
Location: Philadelphia, Pennsylvania
Large backyards are scarce in Philadelphia. I was fortunate to have the square footage, but my outdoor area was just a space that was a dumping spot for garbage cans and rubbish. I knew it could be transformed into a nearly year-round open-air living room. I wanted the garden to be environmentally responsible, aesthetically pleasing and pet paw friendly.
(Image credit: Submitted by Rhea)
(Image credit: Submitted by Rhea)
Over two years, I raised the wall height, painted the masonry blocks white, planted tropical perennials, added a trellis and climbing vines and pulled up the uneven concrete slabs. I chose river rock for the ground cover to allow rain to soak back into the water table rather than flooding the city's sewer system. The pebbles sparkle beautifully when wet and crunch underfoot like the stony seaside.
(Image credit: Submitted by Rhea)
A depressing space to store trash has become my favorite spot to enjoy the start of the day...the pups are enamored too. It is my private green oasis in the middle of the city.
Thanks, Rhea!
• Interested in sharing your outdoor style with Apartment Therapy? Contact the editors through our Outdoor Space or Project Submission Form.