A Micro Apartment Developer Launches a Shop for Small Spaces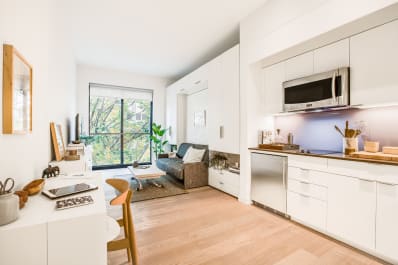 (Image credit: Ollie)
Living in a micro apartment means you have to be more thoughtful about your stuff — how much of it you have, how it functions, and also how it looks. Ollie is one such brand that knows all about it, since they build tiny apartments and just started selling products for them.
(Image credit: Ollie Box)
Ollie's Kips Bay micro apartments opened this summer, and they have another building coming to Queens in 2018 (plus Pittsburgh, LA, and Jersey City in the works, too). In the meantime, they've started Ollie Box, a shop featuring sets for small space kitchen and bathrooms.
The pieces abide by some important space-saving tenets, including stackability and a neutral, natural look. The items are made from clay, glass, cork, porcelain, wood, and felt, adding texture.
The shop also stocks many individual items, including removable wallpaper, storage baskets, and bath and body products.
h/t Curbed