A Gorgeous Kid and Party-Friendly Outdoor Space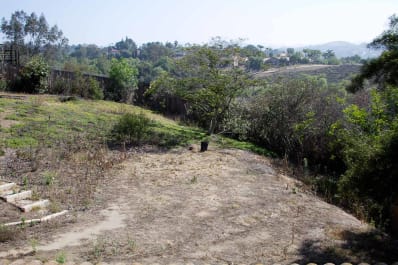 (Image credit: Submitted by Beth)
Name: Beth
Location: San Diego, California
Our new home was empty for a while before we moved in so the yard wasn't being maintained. Once we move in, we immediately started renovations on the inside and continued to neglect the yard. It was an overgrown mess by the time we started the renovations.
(Image credit: Submitted by Beth)
We love to entertain but also knew we were going to have children. The space, which is about 1/4 acre, needed to be family friendly but able to accommodate parties and get-togethers. We didn't want to lose a modern aesthetic just because we planned on having kids. We installed a pool with a cover that could hold an elephant. It's peace of mind when you have kids running around.
(Image credit: Submitted by Beth)
We have two shaded areas to protect kids and adults from the harsh San Diego sun. We installed a bbq area under the previously existing structure which has been great for parties and family dinners. Since California is in a drought we installed artificial turf instead of grass. It gives kids a place to play without wasting water. We're looking forward to adding additional planting this year to keep it from looking so sparse. The greenery should look amazing next year, once everything has had time to grow.
(Image credit: Submitted by Beth)
One of the biggest challenges was the waiting. From the time we started looking for contractors to the time it was finally finished was about a year. I got engaged, married, pregnant and almost had the baby by the time the yard was finished.
(Image credit: Submitted by Beth)
The time we spent was totally worth it. Since we live in San Diego, we use the yard all year long.
Thanks, Beth! You can see more on Beth's blog Food Fashion And Fun.
• Interested in sharing your outdoor style with Apartment Therapy? Contact the editors through our Outdoor Space or Project Submission Form.