Before and After: A Bare Den Takes On An English Pub Vibe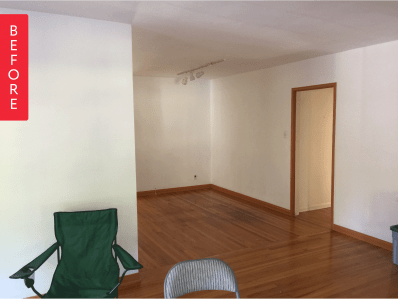 (Image credit: Submitted by Matt and Amanda)
With low ceilings, white walls and track lighting, Matt and Amanda's post-war den in their California Craftsman didn't exactly inspire the soul. As two people working in a hectic and creative field (they're both actors), they wanted to add loads of personality to their small den, while also creating a retreat. In short, they wanted to banish the boring. Their plan? Transform the blank canvas above into a room with English pub vibes.
Because the couple — and their cat Margaux — wanted to spend the start of their days enjoying coffee in the lounge, just a coat of paint would not do. Like in other rooms of their house, Matt wanted to add architectural interest with lots of wood. And he did it all himself!
As Matt says, "The wood in this room — the alder wainscoting panels, crown molding, and arches— was the project I was most looking forward to doing. It was definitely the most extensive of anything in the house. The lounge is where we tend to have coffee in the morning and maybe read the paper or put on a record. The cat likes to hang out here as well, which suits her very particular tastes.
I started working on [the beams and post] before I realized how difficult it would be to converge all of them in one corner — two separate ceiling beams and one floor post, each with multiple angles, all of which had to wrap around the end cap of a wall. To make sense of it in my head, I had to build a Lego model to prove to that I could even do it."
Seeing the end result, I think we can safely say Matt proved he could to it.
Thank you Matt and Amanda!
See all of this stunning home in Matt and Amanda's full house tour!
---