A "Cozy and Charismatic" Brooklyn Apartment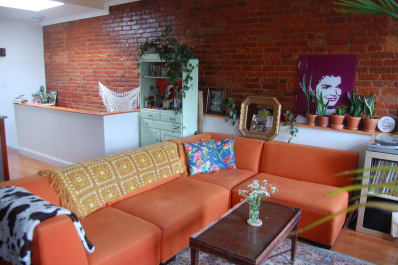 (Image credit: Submitted by Mia)
Name: Mia
Location: Bed-Stuy — Brooklyn, New York
I live with my boyfriend and our roommate in a charming two-bedroom brownstone in Bed-Stuy. It is a fairly tiny (700 square feet) home, but it is very cozy and charismatic. The boys are from Florida and comically obsessed with orange so that color can be found all over the apartment. The apartment itself gets amazing light and all the wood is stained to look gingersnap, so the entire apartment radiates the color orange and always feels very warm.
(Image credit: Submitted by Mia)
My boyfriend and I are really into anything retro and always have been. He used to drive an old '68 VW bus and while he was going to college and he lived in a family friend's rental house which was literally a period house from the early '70s. With that background, we started collecting furniture and became inspired by Betty Pepis' "Interior Decoration A to Z", which is the same book the "Mad Men" set director used when they styled Don Draper's Manhattan apartment.
(Image credit: Submitted by Mia)
(Image credit: Submitted by Mia)
I am a textile designer and I love texture and print. My boyfriend works at a large advertising agency and sometimes he gets to bring home decorations and furniture they no longer need in the office. That combined with great Craigslist finds and my love of caring for a million plants is how our apartment came to be. We have a passion for DIY projects and completed so many that the apartment doesn't really have that generic rental feel.
(Image credit: Submitted by Mia)
My boyfriend and our roommate are musicians and I have my own small craft business that I run from home, so finding places to store everything we need in our tiny rental apartment is a challenge but we've become very resourceful. I travel a lot and have lots of odd knickknacks lying around, so although I aspire to have a minimal and curated home, it's just not me!
Thanks, Mia!
• Interested in sharing your home with Apartment Therapy? Contact the editors through our House Tour & House Call Submission Form.