A Colorful Fixer-Upper Full of Fabulous Finds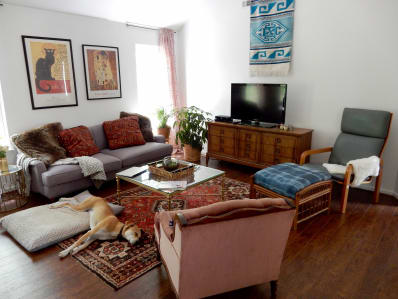 (Image credit: Submitted by Phoebe)
Name: Phoebe
Location: Charlotte, North Carolina
My husband and I one day decided, "hey lets start looking at houses" we didn't realize that we were going to find the house we loved a few weeks later, bid on it, win it, and then begin remodeling it. We found this 1200 square foot foreclosure in Charlotte and without even seeing it in person, we told our realtor that we wanted to place a bid on it. The annoying part? It was a blind bidding so we had no clue what other people were bidding. Luckily, ten days later we found out that we won!
(Image credit: Submitted by Phoebe)
The house was in pretty rough shape. It had no floors, outdated fixtures, broken doors, a very yucky kitchen; the list of what was wrong with this house could go on forever but despite all of that, we knew what we could turn it into!
We painted the whole house white. A lot of people questioned our decision to do that but a lot of our furniture is very colorful so we figured a white canvas was best. We got new floors put in. We painted our cabinets white and put in this killer backsplash that I literally drool over every time I walk into the kitchen.
(Image credit: Submitted by Phoebe)
When it comes to decorating we buy things we love and feel drawn to (mostly from thrift stores, Goodwill, or ebay) and make it work within the space! I guess that's why I love the eclectic look as much as I do. I like that with an eclectic style you aren't put in just one box. Even when I try to decorate according to a "particular" style, it never works out because then I'll see a mustard yellow chair that throws everything off ! We like doing what we want, with the colors we want, mixed with the textures we want and it manages to come together beautifully!

My favorite part of our home is certainly the main living area. There is an arched doorway that we painted purple that leads into the kitchen and "dining room" (more like eat in kitchen) which then leads into the living room which has cathedral ceilings!
(Image credit: Submitted by Phoebe)

Our dining room table is my favorite piece of furniture. I found it on Craigslist and my husband and I drove two hours to pick up this worn down round wooden table. The gentleman that sold it to us shared how it was his families dining room table for 20+ years. He, his wife, and six kids ate dinner at it every night. I felt the love he had for that table, and I assured him that I loved the table and I would take good care of it and one day we would have our own big family sit around it.
My other favorite piece in our home is this velvet blush colored chair that I found at Goodwill for $10! My husband was nervous about having a pink chair in the house but it was way too perfect to pass up.
(Image credit: Submitted by Phoebe)
I love all of our furniture, but our rug; that is a piece that I will never ever get tired of. I found this rug on eBay and stalked it until the bidding time got down to 15 minutes and then became a wild woman and started bidding left and right until I got it! Luckily I still got it for a steal! It really is a stunning piece that is super soft and our dog highly approves of it which is an added bonus! We are still doing updates and fun projects but I think that's something we are always going to want to do, because its FUN!
Thanks, Phoebe!
• Interested in sharing your home with Apartment Therapy? Contact the editors through our House Tour & House Call Submission Form.