A Colorado Couple Sharing A Stylish 300 Square Feet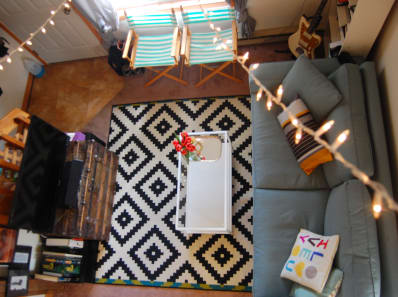 (Image credit: Submitted by Desiree)
Name: Desiree
Location: Steamboat Springs, Colorado
My boyfriend and I live in our little 300 square foot apartment here in Steamboat Springs. We rent the space (it's expensive to buy here) so I'm trying to make the best of a space I can't paint or remodel. It's a loft apartment so you walk in and the ground floor is the living room, kitchen and bathroom and there are stairs that lead up to the bedroom. I think the loft space makes everything feel more open which I enjoy a lot.
(Image credit: Submitted by Desiree)
(Image credit: Submitted by Desiree)
The location is cool because it's so near the mountain that we can get up and go snowboarding within 10 minutes. I'm most proud of the nice mixture of new and old things. A lot of our stuff is from a thrift store, Craigslist (heyo free Craigslist couch) or hand-me-downs from my antique loving aunties. The things we purchased are mostly from IKEA because we're on a tight budget.
(Image credit: Submitted by Desiree)
The overall theme seems to be more about color than a specific style; there's turquoise, gold and white throughout the house. I just love that the apartment feels cozy and welcoming but also well styled at the same time.
Thanks, Desiree!
• Interested in sharing your home with Apartment Therapy? Contact the editors through our House Tour & House Call Submission Form.