A Chicago Apartment Where "Old World and Modern Design Collide"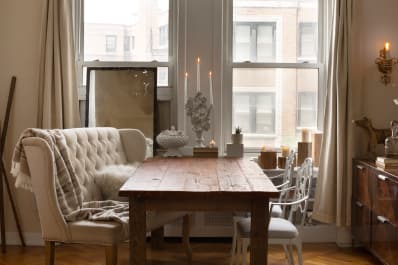 (Image credit: Photos by Philip Rheinecker )
Project by: Ella Swenson
Location: Chicago, Illinois
A combination of salvaged wood, unexpected family heirlooms and cozy textiles make Ella's home feel like a warm and welcoming curio shop. Personal and interesting, this is a space that invites you in for a cup of tea and some charming stories.
From Ella:
I'm a creative director/producer in Chicago with a desperate love for vintage, salvaged wood and projects. My Scandinavian background has a large influence on the space as it's functional, light and open. Modern design collides with touches of the Old World while my acquired treasures stemming from an affection for curiosity shops delight guests when they visit.
Some of my favorite items are my salvaged wood table from furniture design company Urban Evolutions. The horse fly blanket that hangs on the wall by my bedside is hand-woven leather from the 1920s; it was used by my grandfather's horse that delivered milk door to door. The blanket was custom built to lay over the horse to keep the flies away with its swaying fringe. Items collected from traveling hang in a gallery wall above my Art Deco cream cabinet and cutting board (my prep area). The items encased in these frames are hand-gathered nature from all over the world, memories and souvenirs alike.
The bed frame is 200 years old and was once oak, but is now the finished product of a painting project with added 24-karat gold painted details.

I love my home, it's a refection of my life memories, souvenirs and Scandinavian heritage. There is something simple yet delicate about the items I have collected all over the world from my travels and it makes my apartment a place I can rest my head and be completely myself.
Thanks, Ella Swenson!
• Are you a designer/architect/decorator interested in sharing a residential project with Apartment Therapy readers? Contact the editors through our Professional Project Submission Form.