A '20s Charmer on an Old Military Base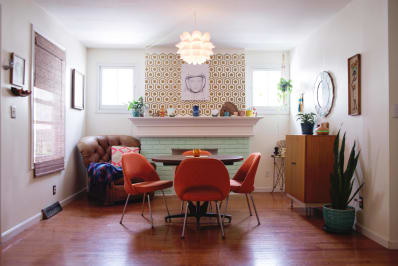 (Image credit: Submitted by Sarah)
Name: Sarah
Location: Fort Thomas, Kentucky
We moved into our 1920s home about five years ago, located in Fort Thomas, Kentucky about 10 minutes from Downtown Cincinnati. It used to be an old military base back in the day and we have found everything from old cigarette ads in an old pie safe to coins for a "gentleman's hotel" to old fruit crates which we kept to use as art and a towel rack in the bathroom.
(Image credit: Submitted by Sarah)
It is an 1100 square foot traditional home from 1920. It was already move in ready but we re-did the floors, stairs, and painted to really make it our own. We also re-did the bathroom and put in a new sink cabinet and barn wood around the mirror. I work at a mid century modern and vintage furniture store called Algin Office & Retro Furniture in Downtown Cincinnati, so a lot of our furniture is either vintage or MCM replicas. Our style is kind of a mishmash of vintage, modern, colorful and fun!!
(Image credit: Submitted by Sarah)
(Image credit: Submitted by Sarah)
My husband, Gerald, is a DJ/woodworker and I'm also a photographer so we have a lot of music posters, photos, and art all over our house (the wood art is all Gerald's and he also made our bed frame). My favorite room is our living room/dining room area. I think it represents our style the best, it's a good mix of both of us. The black & white photograph above our fireplace is an old photo of Gerald's dad from his go kart racing days.
(Image credit: Submitted by Sarah)
We also put in a paver patio and privacy fence in the back. I painted the pink design on the wall that leads down to the basement. I think what we love most about our home is that we really made it ours and it's a reflection of both of us. The dogs also love running around the back yard and going for walks at the park up the street.
Thanks, Sarah!
• Interested in sharing your home with Apartment Therapy? Contact the editors through our House Tour & House Call Submission Form.