For Your Watch List: 8 Underrated TV Shows That Hold Up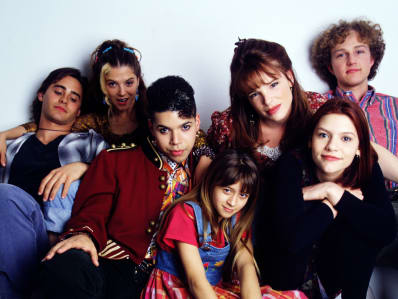 (Image credit: ABC Productions)
There are so many shows on television, it's almost impossible to decide what to watch. Sometimes, we don't even find out about the best shows—the ones that become our absolute favorites—until long after they've aired and concluded or faced cancellation. Unfortunately, some of the most interesting, captivating TV shows just don't get the attention they deserve at the time. From comedies and cartoons to dramas and sci-fi cult favorites, these are shows that should be on your watch list—even if they've been off the air for years.
Before Claire Danes was the star we know her as today, she played Angela on My So-Called Life back in 1994-1995 (and before Jared Leto was causing controversy as the Joker in Suicide Squad, he was conflicted teenage dreamboat Jordan Catalano). My So-Called Life was a teen drama that covered heavy topics, ranging from dealing with learning disabilities to child abuse—but not in the typical way most teen dramas did. The show earned Danes a Golden Globe and a Primetime Emmy nod, but was unfortunately cancelled after just one season, ending on a cliffhanger.
South of Nowhere was on the air from 2005 to 2008 and was an original series on now-defunct teen channel The N. The N had several great-but-underrated originals—Radio Free Roscoe and Instant Star, for example—but South of Nowhere really had the potential to be bigger than it was. The show focused on the Carlin family who had just moved to California from Ohio, but mostly on teen daughter Spencer as she figured out her sexuality, fell in love with her new best friend Ashley, and came out to her parents—with a whole lot of drama in between.
(Image credit: Warner Bros. Television)
Pushing Daisies aired on ABC for two seasons from 2007 to 2009, before ultimately being cancelled. The series centered on main character Ned, a baker who owns a pie-only diner and has the power to bring people back to life. He uses his power to help a private investigator solve murder cases—and to bring his childhood sweetheart back to life, but with some weird stipulations (someone else has to die in her place, and they can never touch, despite their love). The show was a fan favorite and was even included in a TV Guide list of shows that were cancelled too soon.
(Image credit: Sony Pictures Television)
I went into watching Drop Dead Diva with a lot of skepticism, but the show quickly proved me wrong. The premise? A young fashion model named Deb dies in a car crash, but things get mixed up in the afterlife, and she comes back to life—just in the body of plus-size lawyer Jane. Each episode features a new, interesting legal case to follow, but the overarching story is Deb learning to love being Jane—and trying to win back her fiancé, Grayson. The show aired from 2009 to 2014, but was almost cancelled after the fourth season—luckily it was brought back for two more.
(Image credit: Disney–ABC Domestic Television)
Greek is a comedy-drama that aired on ABC Family (now Freeform) from 2007 to 2011 and followed main characters and siblings Casey and Rusty Cartwright and all the inner-workings of college students living in sororities (Zeta Beta Zeta) and fraternities (Kappa Tau Gamma, Omega Chi Delta) at Cyprus-Rhodes University, a fictional college. The show had all the makings of a great high school dramedy, but aimed at college students instead. It ended after four seasons, but in 2016 it was announced that there would be a reunion movie in the future.
Wonderfalls follows Jaye Tyler, a Brown University grad and sales clerk at a gift shop in Niagara Falls, but with a twist—the figurines around her can talk to her and tell her to do things like perform good deeds that she doesn't otherwise want to do. The show was weird-but-charming, and featured a captivating romantic subplot, too. Unfortunately, Wonderfalls aired for only 13 episodes in 2004, and like Pushing Daisies, it made TV Guide's list of cancelled-too-soon shows.
(Image credit: Comedy Central)
Mystery Science Theater 3000 is a cult favorite sci-fi comedy series that ran on and off from 1988 to 1999. Despite it's long run, it didn't have high viewership and it's still one of those shows that elicits one of two reactions: people either know it and love it, or have never heard of it. If you're in the latter group, let's fill you in—it's about a janitor who gets trapped in space by mad scientists and is forced to watch old low-budget movies with his robot friends (that he built to keep him company and make fun of the movies with, of course.) In 2015, the creators launched a Kickstarter campaign to bring the show back, and they met their goal—so, if you haven't watched the series yet, now's the time.
(Image credit: Warner Bros. Television)
Fans of Bob's Burgers will love this earlier animated series from Loren Bouchard. It aired on Adult Swim from 2001-2004 (though it initially premiered in 1999 only to be canceled and picked up by Cartoon Network). Home Movies is all about main character Brendon Small (named after the show's co-creator), an 8-year-old kid with big dreams about making films, his best friends Jason and Melissa, his mom, Paula, and his soccer coach, John McGuirk. The show is a cult favorite, but it didn't really start to get recognition until later years.
Apartment Therapy supports our readers with carefully chosen product recommendations to improve life at home. You support us through our independently chosen links, many of which earn us a commission.