5 Ways to Bring Home the Beach: City-Meets-Sea Bedroom Blues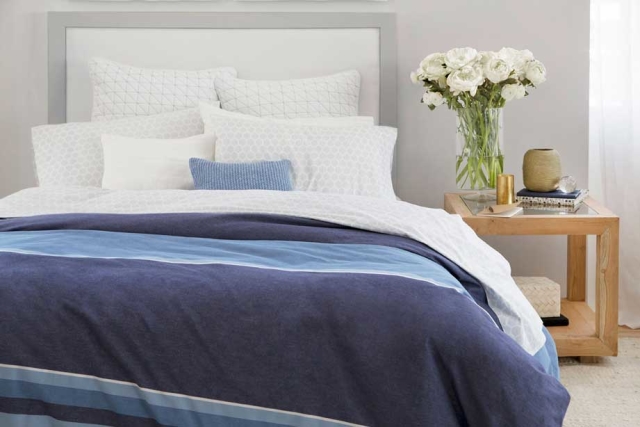 You know that pair of jeans you pack on every beach trip that are so well worn it's like they were custom-made for your fit? Or that tissue-thin T-shirt that's so soft it's the only thing you can wear when you're sunburned? What you want from your most comfortable clothes isn't so different from what you want in a bed. For a room that feels so relaxed it's like you're on vacation 365 days a year, try these 5 tips.
1. Mix beachy blues.
Use sea and sky as a starting point, but don't be afraid to mix in a bit of the city with graphic patterns. Throw pillows are an easy way to add texture as well as color. Pair chambray and denim blues with heathered knits and embroidered indigo for a bed that's as cool and classic as your go-to jeans.
2. Get grounded with dark navy.
Perennially chic, almost any variation on navy is impossible to mess up. Dark military navy makes whites look crisper and cleaner, while yarn-dyed or watercolor-washed navy feels softer and more fluid. On the walls, try paint colors like Nautica Navy NT488 by Nautica at Home, and pair with Bone NT602 for a classic nautical theme, or with Midnight Coffee NT638 for an earthier feel.
3. Use misty grays for cool contrast.
For a more modern take on classic blue-and-white, substitute a pale gray. The cool tones lend depth to blue, just as silver clouds in a blue sky feel a little more moody. Gray also adds interest to white, so that rather than the typical navy-and-white sailor standard, you get a range of complex colors.
4. For warmth, add sandy shades & weathered woods.
The city-meets-sea look is all about balance. To cut the coolness of blues and grays, it helps to add a little bit of warmth. A reclaimed wood headboard, natural wood floors or even a sandy gray-brown throw pillow can bring just enough earthiness to the mix.
5. Step up your stripe game.
A striped duvet instantly brings home the beach, but it looks even better when you layer in a quilted coverlet, sheets with a small-scale repeat and a few textured throw pillows. The mix of graphic patterns and cozy textures keeps the stripes feeling breezy rather than basic.
This post is sponsored by Nautica Home.
Thank you for supporting the brands that make Apartment Therapy possible.