Design Doppelgängers: 10 (Nearly Identical) Designer Chair Look-a-Likes You Can Actually Afford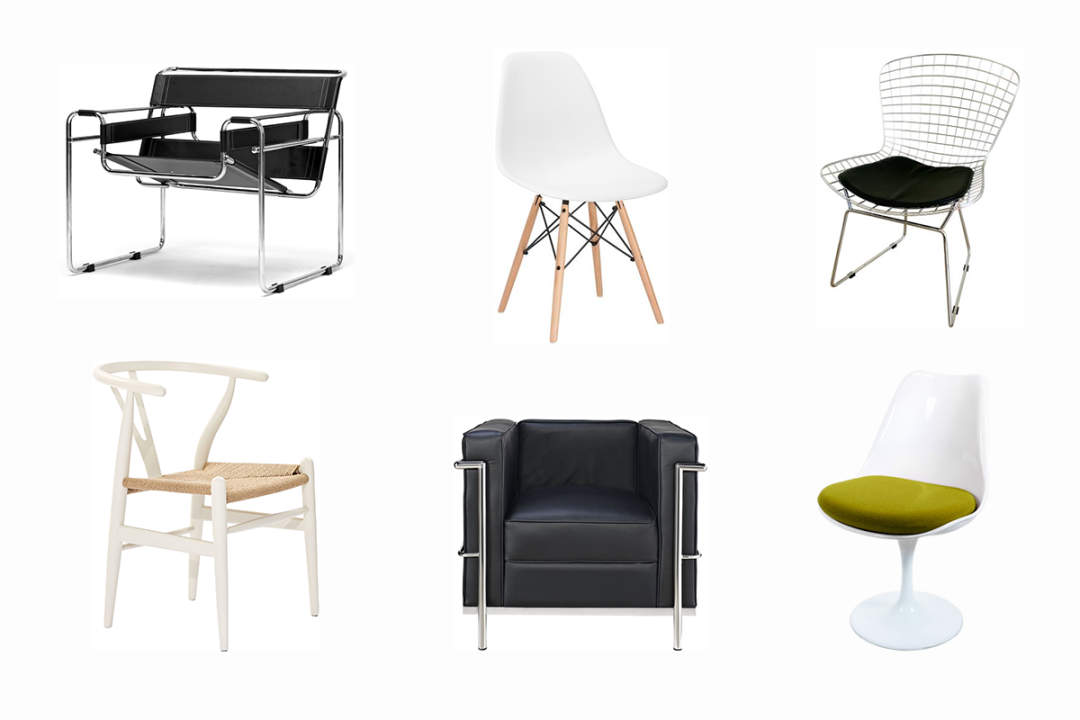 Nothing beats the real deal, but when your wallet hasn't quite caught up to your great taste, there are ways to get the look without going ridiculously over budget. Lookalikes abound, but not everyone is in the "ok with it" camp. For those who are, we offer up the following scenario: The second you win the lotto, you'll be on board to pony up for the originals, but until that day comes, we might find you lounging on these knock-offs of classic beauties.
Probably the first designer chair I knew by name, the Eames molded plastic seat is a popular piece that has proven itself to be timeless and enduring. Want to know one of our favorite fun facts about Eames chairs? The Dax and Rocker models were originally designed for a low-cost furniture competition (they cost about 20 bucks a pop back then!). Flash forward almost 70 years, and an authentic Eames side chair now retails for $468 at Design Within Reach. Good news, frugal design lovers, you can nab the nearly-identical pair above at Poly + Bark for $110. It's what Charles and Ray would have wanted (maybe?).
This iconic mid-century modern seat was revolutionary for making an industrial material (steel) look and feel surprisingly comfortable. However, innovation comes at a cost—and the real deal would set you back almost $600—but this imitation from Baxton Studio costs about one sixth the price ($103.11, to be exact). Reviewers report that the chair is easy to assemble and sturdier than they expected.
It comes as no surprise that this playful, irreverent take on the ornate Louis XVI-style chair was designed for Kartell by Philippe Starck, a French designer who got his start outfitting lavish Parisian nightclubs. Starck is a believer in "democratic design"—or creating pieces that aren't just for the rich and famous—but with the real thing priced at $450, it's still not realistic for most of our wallets. Now, the $77 LexMod look-a-like above that can be Amazon Primed over in just a couple days? That's what I call bringing design to the people.
Finnish-American designer Eero Saarinen may have been the KonMari of furniture design, decluttering the traditional 4-legged chair down to a minimalist, single-pedestal seat. A genuine tulip chair costs $1,733 from Knoll, but the replication above is only $135 from Rove Concepts. If you can't afford to splurge on an original, at least you'll get to choose from five different seat materials and dozens of colors.
Well-loved for its cozy curved shape and woven seat, Danish designer Hans Wegner's wishbone chairs tend to be found in spaces that nail the refined-yet-relaxed aesthetic. Design Milk's look at how each piece is hand-crafted and hand-woven proves that this luxury piece is worth its $600 price tag. No way you can cash that check? Take a look at Edgemod's $149 version.
Turning the standard structure of an armchair on its head, the Le Corbusier group put the steel frame on the outside, and lush leather on the inside. Lowe's budget-conscious version for $490 is about one tenth the cost of the original.
Proof that the simplest things are often the most beautiful, this Series 7 chair is molded from a single piece of plywood and conforms to the body, making it much more comfortable than it looks. Prices for the real deal start at $518, but the LexMod copy (above) can be yours for just 60 bucks.
Even if you don't know the Thonet chair by name, it's likely you've sat in one—probably while lingering over coffee at an outdoor bistro. The elegant curved back of the original Era Chair was molded from a single steamed piece of wood, making Michael Thonet a leader in the bentwood process. At $200, a genuine Thonet is more affordable than most designer chairs, but Crate & Barrel's stunning $109 version is even more reasonable.
By reducing this classic shape down to a clean-lined structure, Marcel Breuer reinvented the traditional club chair. If the $2,498 price of an authentic Wassily is several times your monthly rent, consider this sleek $301 version from Lowe's.
When Knoll manufactured the first Risom side chairs in 1943, parachute webbing formed the criss-cross seat and back because of wartime material restrictions. France & Son's $200 version is a combo of beech wood and elasticated cotton.
***
Tell us: Would you ever buy one of these steals, or are you waiting to splurge on the real deal?
Apartment Therapy supports our readers with carefully chosen product recommendations to improve life at home. You support us through our independently chosen links, many of which earn us a commission.